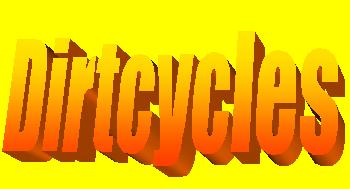 by

(email me)
Get your Free Email! your_name@dirtcycles.every1.net
Click on the Flag above to visit My Store
Last revised November 11, 2002 11:13 AM (Optimized for IE 5.x, Best Viewed at 800x600)
For friends, family, and all lovers of dirt bikes
---
Places to Ride in Florida
Croom
I75 exit 301 (old 61), mile marker 302, located in NW corner of intersection, behind Holiday Inn. More details, click here.
Hard Rock Cycle Park Ocala Florida
I75 exit 359 (old 71), turn east on C-326 and go 1/2 mile to C-25A (stop light), turn right, then go 3/4 mile, the park entrance is on the left. More details, click here. They have a large MTB area, open to motorcycles only for Trials Competions.
Mesa Park
Sarasota area (somebody email more info, address, phone, etc.)
Promise Ranch (closed to public)
Open to FTA only during scheduled events
---
---
---
---
© 1999, - All rights reserved. All trademarks are owned by the respective companies.
---
Bottom Of Page
What are you doing looking down here? This is past the bottom of the page.
---